When I went shopping this week I intended to make enchiladas but when I got home I realized I got everything to make them except the enchilada sauce. So we were just going to make bean burritos but then the flour tortillas I bought kept tearing so what would one do??? Make Mexican style lasagna instead! The filling for the lasagna had tofu crumbles made with fresh jalapeno, onion and the usual Mexican spice like cumin and chili powder. I also heated up vegetarian refried beans with tomato sauce. I layered the torn flour tortillas, crumbles, refried beans and salsa until it was about 4 layers deep. To compliment the lasagna I made two toppers. One was guacamole made with avocado, fresh lime juice, fresh jalapeno, garlic, red onion, agave, sea salt and black pepper. The other topper was a raw salsa made with fresh white corn off the cob, diced tomatoes, fresh jalapeno, fresh lime juice, red onion, sea salt and black pepper.
Unfortunately, this picture doesn't show off the layers, but boy was it tasty!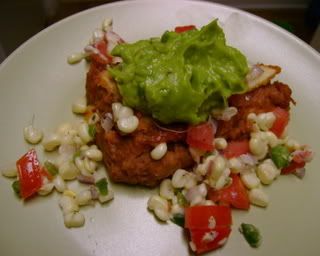 I have made and posted about my rice pudding before but this one was especially good so I had to post about it this time. This rice pudding was made with left over jasmine rice. I heated coconut milk up with natural sugar, ground cardamom, star anise, cinnamon and tiny bit of corn starch. The heated, strained and spiced coconut milk was added to the jasmine rice until well combined. In honor of my step mom, Delia, bowls of this chilled chai rice pudding were topped with whipped soy cream.