So, it happened. I turned 28 today. First things first. My lovely husband bought me these birthday presents. I got a really cool tea press, which worked really well and a new garlic press since our old one was dead. He also got me cute stickers, a cool vegan cookbook called ExtraVEGANza by Laura Matthias and the August edition of VegNews magazine (which I now hope to subscribe to). Jared did an awesome job!


Since I needed to use the mung bean sprouts I grew last week I decided to make a miso noodle bowl for lunch today. I made a homemade broth out of celery, onion, carrot, garlic, ginger, fresh parsley, black peppercorns, soy sauce and mirin. I strained the broth and added miso paste. I cooked soman noodles in a separate pot. I added raw zucchini, snow peas and mung bean sprouts to a big bowl, added the miso broth and noodles and topped it off with a bit more veggies.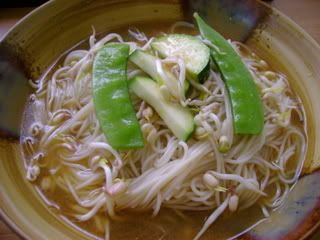 A big bummer having a birthday on a Sunday means having a nice vegan meal out was very difficult. Both of the places we tried going to tonight, Cafe Sunflower and Veggieland, were both closed on Sunday! Turns out a lot of places we like to eat at are closed on Sunday but since we usually only eat out on Saturdays, we never knew. Anyway, we ended up trying a place called Top Spice which is a Thai Malaysian place. It was pretty good and they had many things to chose from. We of course made sure no fish sauce was in our dishes.
Jared got Spicy Basil Tofu: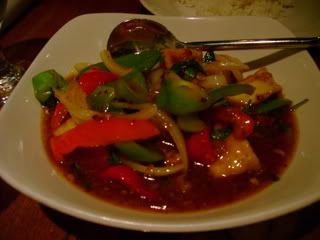 And I got Garlic Tofu (Sorry the picture is dark. We turned the flash off):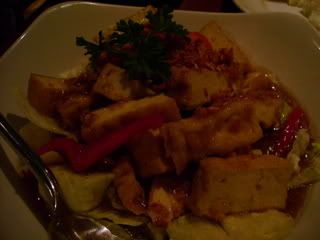 Originally, we were just going to get dessert out at Cafe Sunflower or Veggieland so we didn't make a birthday treat at home. Since those plans fell through and we didn't have time to make something, Jared and I bought an apple pie from our local health food store along with Soyatoo Whipped Soy Cream (which was absolutely AMAZING!).