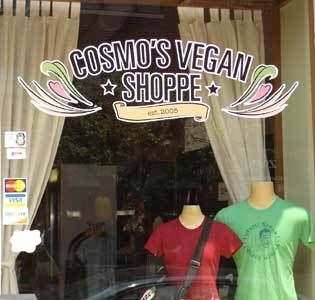 Jared and I are still relatively new to Atlanta and spend most of our weekends exploring. This weekend we were driving around in the Inman Park area of Atlanta. I was singing really loud, dancing around in the passenger seat and looking out the window when I saw it . . . the word VEGAN on a store front! I said to Jared, "I think I just saw a vegan store." Jared spotting a parking spot and immediately pulled over. Sure enough we were walking into Cosmo's Vegan Shoppe, this awesomely intimate and adorable all vegan store (duh!).
They had a more than adequate book selection, where I picked up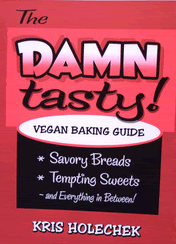 They also had a great selection of cosmetics, supplements, tons of vegan snacks and loads of cute shoes, bags, shirts, wallets and belts.
I love that Atlanta keeps surprising us. I love that we have a community to support stores like this. You too can check out and shop at Cosmo's Vegan Shoppe online. If you are ever in Atlanta, check them out at 672 Highland Avenue NE.