Today was filled with yummy eating! Jared and I decided to get out of the house today to go look for bikes. We finally got out of the house in time for lunch and decided to go get some Mediterranean food. We went to the Olive Bistro in Atlanta but the falafel pitas weren't as good as the last time. We did order the hummus small plate which came with whole wheat and white pita that was pretty fantastic.


For dinner, Jared made his AWESOME lentil soup. He put carrots, celery, onions, potatoes, red lentils, veggie stock, sea salt, black pepper and ground coriander. He also toasted slices of ciabatta bread to dip in the soup. I love love love this meal.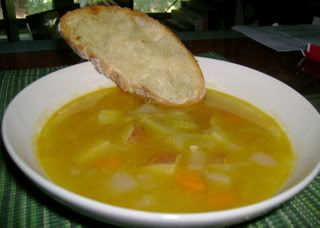 For dessert, I made "milk" shakes out of chocolate hazelnut soy yogurt ice cream, better pecan soy ice cream and chocolate soy milk. I don't even need to tell you how wonderful this was.