As I mentioned in my last post, I haven't been feeling all that great. I'm congested, have a nasty cough and a bit of a sore throat. Since Saturday, I haven't been too excited about being in the kitchen but wanted to use up some of the produce I got last week. To soothe me, I decided to make a simple and quick Black Bean soup and Fruit Salad for dessert.
The Black Bean Soup had black beans (dried that were soaked over night and cooked), red onion, garlic, oregano, salt, black pepper, chipotle powder and veggie stock. I mashed up the beans with a potato masher and added the veggie stock until it got to a soupy consistency. I topped the soup with quartered cherry tomatoes and avocado that was left over from the sandwiches I made for our picnic this past weekend. Very comforting!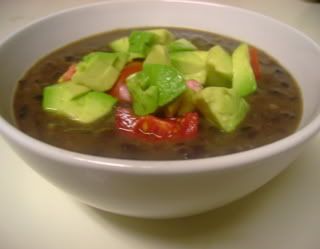 The Fruit Salad was super easy. I just diced up a golden delicious apple and mango and coated them with juice from half a lemon and then threw in the blackberries, blueberries and cut up strawberries. I think fruit based treats are my favorite way to end to any meal.