I have been fascinated with bread making ever since I was a kid. Between my Grammie's yeast rolls and biscuits and my Dad's pizza crusts and breads, I have been around good homemade breads my whole life. I mentioned before that my Dad found me a bread machine at a garage sale and I have been a bread machine girl every since. I still love the idea (and practice) of mixing, kneading and forming dough with my own hands, but the bread machine does provide a consistent product. This week I merged the use of my bread machine and my own hands by making a pesto spelt and whole wheat bread. I got the general idea from one of my fellow bloggers, Have Cake, Will Travel! I added both spelt and whole wheat pastry flours with some water, vital wheat gluten, brown sugar, sea salt, pesto and yeast to the bread machine and used the Dough setting. About 2 hours later, after a thorough kneading and long rise, I formed the dough into 4 loaves and baked them in the oven for about 30 minutes until they were golden brown. The bread turned out chewy and full of flavor between the 2 nutty flours and the bright (and mind you, leftover) pesto.
Baking in the oven: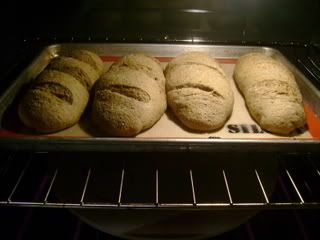 Right out of the oven and cooling: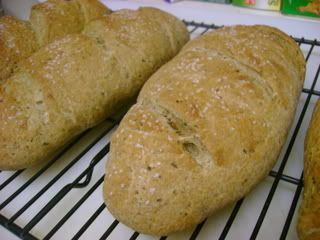 With steel cut oats becoming a bit boring in the mornings, I decided to make some muffins. With trying to stay in line with my healthier eating, a low fat muffin was in order. So, I turned to the Damn Tasty Vegan Baking Guide and made the Blueberry Streusel Muffins but cut the oil in the recipe with apple sauce. They did indeed taste healthier, but very delicious nonetheless.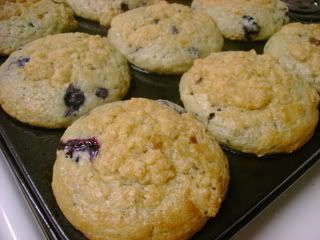 Tonight I made one of my favorite things: Mac and Cheeze! I used quinoa shells instead of a traditional white flour pasta. The quinoa pasta wasn't as good as what my palate is use to but I think over time I will eventually get use to non-white pastas. I used the Soul Veg Mac and Cheeze recipe (the one they use at the ATL restaurants) I found online here, which is very naughty but between portion control and using a healthier pasta, I didn't feel as bad eating it. To go with the Mac and Cheeze I roasted some very sweet (and cheap!) asparagus and made a salad with mixed baby spring mix and cherry tomatoes.