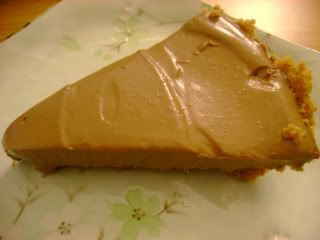 Oh wow, sometimes I even amaze myself. This pie I made today is really, really awesome. It kinda tastes like chocolate mousse meets peanut butter pie meets heaven. I HAVE been eating way better but Jared has a birthday coming up (on 3/11) so, instead of celebrating just one day, we usually celebrate for at least a weekend, if not a whole week. So, to start off the celebration I made him this pie. Something this good shouldn't be kept secret, so I will share. You'll have to make your own though, unless you come over!

Pie Crust:
1 sleeve of Cinnamon (no Honey added) Graham Crackers
4 generous tablespoons of Earth Balance (or other vegan margarine)
1/4 cup of natural vegan sugar

Preheat oven to 350. In a food processor, pulverize the graham crackers until it is a fine crumb and transfer to a mixing bowl. Melt the margarine and add to the graham cracker crumbs along with the sugar and combine until everything is moist. Add mixture to a 9 (or 10) inch pie pan and form wet crumb to the top of pie tin. Bake in the oven for 8-10 minutes. Set aside to cool and make filling.

Filling:
1/2 cup vegan chocolate chips
2 tablespoons (maybe more) of Vanilla Soy Milk
1 12 oz box of Firm Silken Tofu (I used Mori Nu)
6 generous tablespoons of Natural peanut butter
1 tablespoon agave nectar (this is optional, I just like the flavor)

In a small glass mixing bowl over a sauce pan of simmering water (double boiler action!), melt the chocolate chips and soy milk together. Once melted, set aside to cool a minute. In the same food processor that was used for the pie crust, combine the tofu, peanut butter and agave nectar (if using) until completely smooth. You may need to scrap down the sides a few times. While the tofu/peanut butter/agave is mixing in the food processor, pour in the melted chocolate chip/soy milk mixture until everything is well incorporated. If the mixture isn't pourable (it shouldn't be totally watery though) add a touch more soy milk. Taste to make sure it is sweet enough (I don't know . . . you may have a crazy sweet tooth). Add the mixture to the baked graham cracker crust and refrigerate for at least 1 hour or until firm (I let mine set for over 2 hours).

If you have some kind of soy whipped kream, add to the top for extra naughtiness.