True signs of spring for us are tax season, picnics and allergies.
As I've mentioned before, Jared works as a stockbroker. Under normal circumstances, it can be a stressful job. Throw in tax season and Jared's job can be down right bad. This week ended especially awful for Jared, so I made him one of the first things he eyed in My Sweet Vegan: Peanut Butter Bombs!!! Okay, okay, I had one or two myself and they were good, but Jared really needed them, I swear! Little did he know, I had a great Saturday planned too. (Sorry for the blurry pic, we were hypnotised by these delicious and naughty treats.)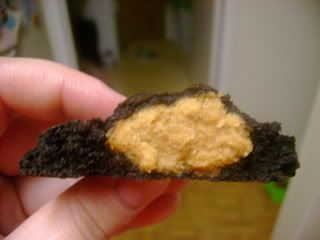 I decided to surprise Jared with a picnic. For Saturday's picnic, I made some lower fat potato salad on Friday night. That's right, lower fat potato salad. Yes, I did use Yukon gold potatoes and a little Vegenaise BUT to make a very creamy dressing for the potato salad I used soy milk and lemon juice. The lemon juice thickened the soymilk and gave it a tangy bite. I also added celery, grated onion, mustard, salt, black pepper and Herbes de Provence. Of course, Jared saw the potato salad and got into it when he got home from work Friday so I told him of our picnic plans.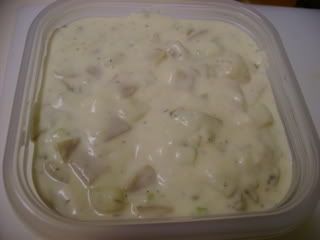 Saturday morning came and I surprised Jared with breakfast in bed. I made him banana waffles with mixed fresh berries and maple syrup. I first let the blackberries, blueberries and strawberries macerate in maple syrup while I made the waffle batter.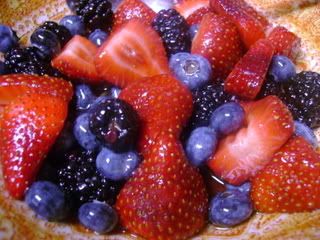 I made the Banana Nut waffles from Veganomicon, minus the nuts. On top I added the mixed berries with maple syrup and little whipped Earth Balance. These were so good.


After breakfast and lounging around a bit, I made sandwiches for our picnic lunch. I got some ciabatta rolls from the farmers market and slathered homemade pesto that I made with that lovely basil in my last post. I used the pesto recipe from Vegan with a Vengeance. I also added cucumber, avocado (just a little), red onion and tomato.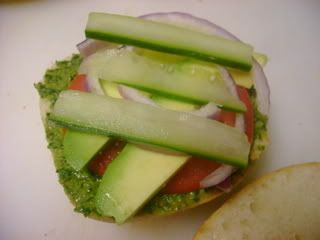 So, we packed up our food, blanket and dog Sweetpea and headed over to Grant Park. We couldn't have asked for a better day. It was in the upper 60's and very sunny.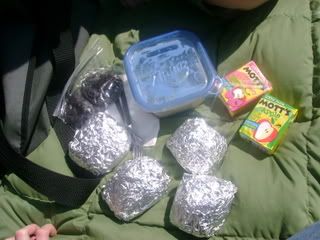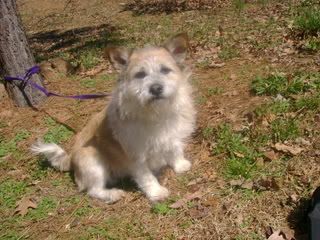 There was also these beautiful flowers surrounding us, (which I think were actually weeds . . . but, hey, sometimes weeds have the prettiest flowers) that reminded me that allergy season is around the corner.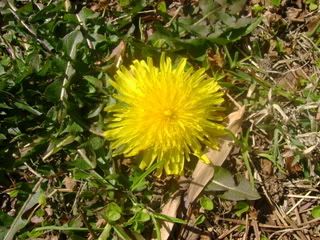 Sure signs of spring, maybe, but I am feeling like a cold is in the making so winter may very well still have it's grip on me. Hopefully, it is just allergies come early.