When I first read Dr. Stonielove's Nonfat Carrot Cupcakes recipe, I thought I had everything I needed to make these beauties. Then half way into reading the recipe more thoroughly, I discovered I didn't have maple extract and didn't have enough maple syrup for the sweetener part of the cake recipe. I also don't care for raisins so I decided to go on with the "skeleton" recipe and improvise with what I had and liked. Instead of maple extract, I used vanilla extract. and instead of using 1/2 cup of maple syrup, I used about 2 tablespoons of unbleached granulated sugar, 2 tablespoons of maple syrup and 1/4 cup of brown sugar. I also added the juice of one 8 oz can of crushed pineapple, which yielded about 1/2 cup of juice and I used orange juice for the remaining 1/2 cup of liquid. I also added the drained crushed pineapple to the recipe. These turned out remarkably well considering I made a lot of changes. My tongue could tell there wasn't any fat in the cupcake recipe but luckily, the icing made up for it. For the icing, which is NOT nonfat, I only had to substitute the maple extract with vanilla extract and added a tablespoon or so of pure maple syrup. I kinda wished the icing had a bit of Tofutti cream cheeze in it to cut the sweetness down a bit, but I didn't have any to add.
All and all, this was a success. Even though I changed a few things, Dr. Stonielove gets the credit for these half healthy, half decadent cupcake treats! You rock Dr. Stonielove!
Just iced and dusted with cinnamon!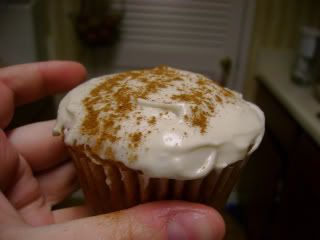 About to be devoured!


Oh, yeah! As the big bite shows, these rocked!