I've had a few people inquire regarding my arm and job situation. Well, I am still hurting but healing slowly. I have more range of motion with my elbow but my wrist, which is what I actually fell on, is taking a bit longer to heal. I am able to do basic knife skills, cooking/baking and dishes but I am unable to left heavy items like big pots of water for cooking pasta. I have taken back most of the kitchen responsibilities but Jared does still help a lot with household things I struggle with like taking the garbage out, lifting laundry and washing the heavy pots and pans. He is my hero and I am a VERY lucky lady.
The other update is that I am still unemployed, which is getting more and more depressing. Thankfully, Jared is plugging away at work to support us. So, as usual, I keep myself busy with cooking, baking, recipe writing, resume tweaking and job scouring. I am one of those weird people that actually like to work, so it's tough to be without a job, unless you count being a home maker, which I do. Atlanta's job market is just too small for a college graduate (with a Business Management degree) with about 5 years experience in the field I came from (mutual funds/investing). I'm up for changing paths but it seems the only jobs are either super entry level, which employers feel I am too qualified for OR executive level, which of course I know I am not yet qualified for. NOTHING IN BETWEEN, WHICH IS MADDENING! If anyone in Atlanta knows of a job opening, let me know! If all else fails, I could always go back to school!
Anyways . . . that's my sad story for the moment. If ya'll could send me out some good vibes, it would be much appreciated!
Since being a little congested, my appetite hasn't been up for much. I have made a few simple sides and something I have been meaning to make for a while now, Tempeh Hot Wingz.
I am a huge fan of veggie plates, so I made some roasted red potatoes with olive oil, garlic, fresh thyme and fresh rosemary and kale that I sautéed in a little olive oil and sea salt. The potatoes were of course awesome, but I decided I'm not the biggest fan of kale. Maybe I just didn't cook them the way they shine, but I'm not sure I'll buy them again.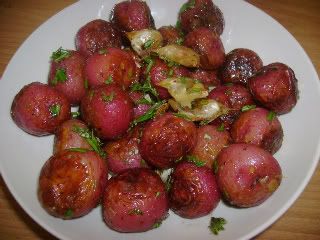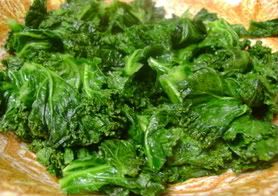 Ever since I saw the recipe for Tempeh Hot Wingz from Don't Eat Off the Sidewalk floating around I knew I wanted to try them. I'm not sure why I wanted to try them because I wasn't the biggest chicken wing fan pre-vegan days, but I liked the idea of baking on the crispy coating and dunking them a deliciously spicy and sweet sauce. What I took from this is I don't really like Tempeh all that much. For me, I just don't care for the texture. Jared liked the Tempeh Wingz and I liked the coating and sauce, so we'll make this again but with tofu instead. I made a "ranch" style dressing to dip the wingz in.